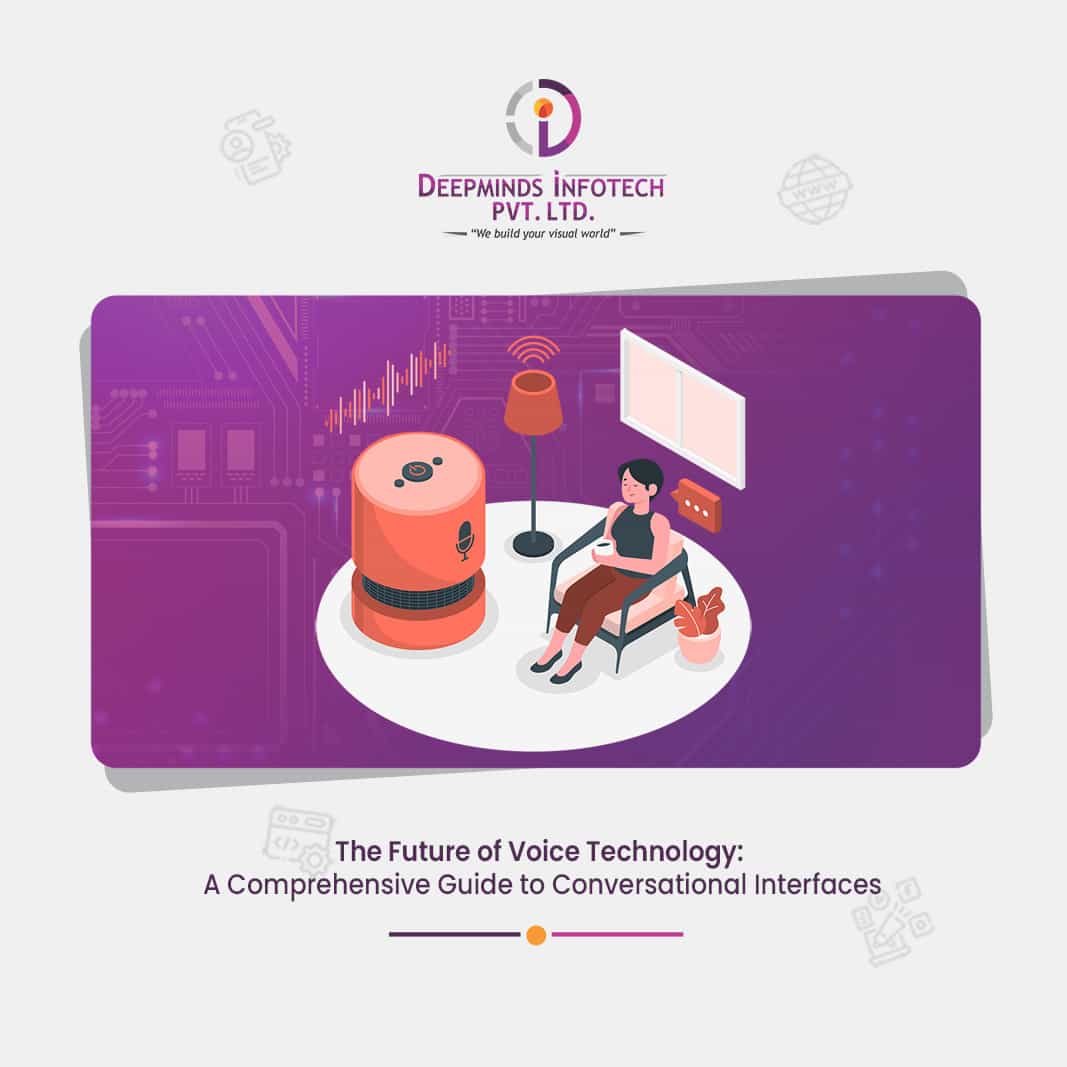 The Future of Voice Technology: A Comprehensive Guide to Conversational Interfaces
Voice technology, often known as voice recognition, allows people to use their voices to connect with computers and other devices. Over time, this technology has advanced quickly, leading to notable improvements in speech recognition precision and natural language understanding.
Conversational Interfaces Are Taking Off:
Convenient ways to connect with technology have made conversational interfaces, like chatbots and virtual assistants, more and more popular. These interfaces enable humans and robots to have genuine, human-like conversations by using speech technologies. Recent years have seen a significant advancement in voice technology, with a wide range of applications across several sectors being demonstrated. Here are a few noteworthy instances:
Virtual assistants and intelligent speakers:

Voice Recognition:

1) Amazon Alexa:
Using voice commands, users can play music, operate smart home appliances, and retrieve information from Amazon's voice-activated virtual assistant, which powers gadgets such as the Echo. Google Assistant: Available for voice-activated help, smart home control, and information retrieval, Google Assistant is integrated into many Android smartphones and Google Home devices.
2) Siri and Google Voice Search:

Both companies' search engines, Google and Siri, offer voice search features to let users conduct queries with voice commands.
3) Voice Assistants for Vehicles:
Voice commands can be used by drivers to use their cellphones hands-free when navigating, making calls, sending texts, and using Apple CarPlay and Android Auto.
Accessibility Features:
Talkback (Android) and Voiceover (iOS):
By speaking descriptions of the content displayed on the screen and allowing voice commands for navigation, these accessibility capabilities help visually challenged users.
Language Interpretation:
Google Translate:
Written or spoken translations into many languages are provided for users who talk into the program.
Appliances Capable of Speech:
TVs, refrigerators, and ovens that are smart:
Several smart appliances have voice recognition built in, enabling voice control.
Voice Response Systems with Interactive Features:
Banking and Telecommunication Services:
A lot of businesses use voice-activated menu navigation and automated phone interactions (IVRs) where clients can conduct tasks by just speaking to the system.
Software for Dictation:
Voice-Activated Medical Record Systems:
To enter patient data and update medical records, several healthcare facilities make use of voice technology.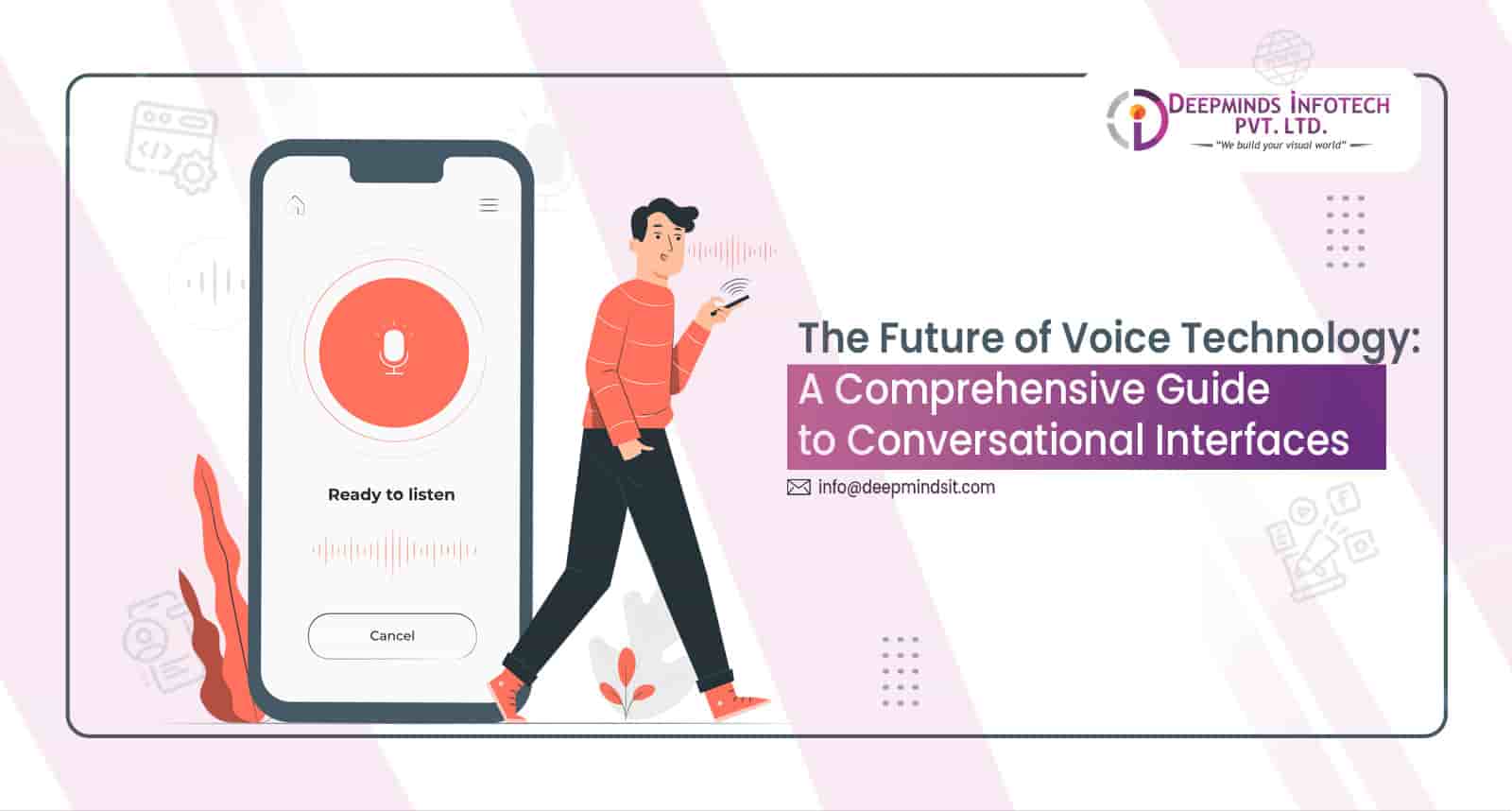 How It Affects Everyday Life:
Voice technology and conversational interfaces have revolutionized everyday life by simplifying chores like internet searches, reminders, and voice control for smart home products. Applications for this technology can also be found in the healthcare and customer service sectors, among other areas.
The Benefits and Drawbacks:
The hands-free and eyes-free interaction that voice technology and conversational interfaces offer is one of its advantages; this makes them especially helpful in scenarios when it is impractical to interact physically with a device. Nonetheless, issues like privacy concerns and the requirement for increased precision in comprehending a variety of dialects and languages continue to be obstacles.
The Voice Technology of the Future:
Even more seamless technological connection is anticipated with the development of conversational interfaces and speech technology. We may anticipate increasingly intuitive and context-aware voice-enabled experiences as artificial intelligence and natural language processing continue to progress.
Conclusion:
Voice technology and conversational interfaces have advanced significantly and are transforming how we use technology. These technologies have the potential to become much more integrated into our daily lives as they develop, making chores simpler and improving user experiences.